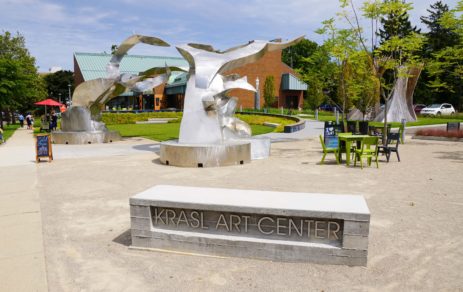 Experience live music and silent films at the Krasl Art Center before a tour or treatment
[ad_1]
The Krasl Art Center will once again offer the community the opportunity to watch classic silent movies for Halloween this year. He says he's teamed up with the Coastline Children's Film Festival for "Flick-or-Treat". The KRasl published the following:
The Krasl Art Center (KAC) and the Coastline Children's Film Festival (CCFF) have once again joined forces for the return of "Flick-or-Treat". This year, two evenings are dedicated to classic Halloween-themed movies.
On October 15th, visit CCFF's new home at their offices in Sawyer, MI for an indoor screening of "The Old Dark House" (1932, 72 min).
Come to the KAC in St. Joseph on October 29 to decorate your own pumpkin to display at the KAC, then enjoy 10 silent films screened with live piano accompaniment from Dr. Larry Shanker on the KAC grounds. Pull up a blanket, enjoy popcorn, coffee or hot chocolate from Red Arrow Roasters, and experience these classic silent movies with the whole family just in time for Halloween. A suggested donation of $ 2 supports the CCFF and KAC collaborations.
Guests will be required to adhere to applicable COVID security protocols. In the event of bad weather, the outdoor part of the event will take place on October 30 at the same time and location (KAC outdoor campus). Updates will be shared on krasl.org and on both organizations' Facebook and Instagram accounts.
This year's feature film, THE OLD DARK HOUSE (1932), a horror comedy movie directed by James Whale, will screen inside the Coastline storefront in the Flynn Theater Bldg at 5861 Sawyer Rd in Sawyer MI on October 15 at 7:00 p.m. Originally considered a lost film, it has been restored by the George Eastman Museum and has received wide critical acclaim. Today it is recognized both as a cult classic and as one of the director's most significant works.
On October 29 starting at 8 p.m., discover 10 classic silent short films projected on the south-facing wall of the KAC accompanied by piano improvisation by Dr Larry Shanker, Executive Director and Music Specialist for Brookview Montessori School. Bring blankets, chairs and friends to this outdoor fall family event!
The films include:
Dr Pyckle and M. Pride (1925, United States, 21 min.); The Enchanted Well (1903, France, 4 min); Felix the Cat Sure-Locked Homes (1928, United States, 7:50 min); The fresh lobster (1928, United States, 6:42 min); The Haunted Ship (1930, United States, 7:40 min); Just Spooks (1925 United States, 6:52 min); Ko-Ko Sees Spooks (1925, US 7:28 min); The Pumpkin Race (1908, France, 6:17 min); The Witch's Cat (1929, USA, 2h45 min) and The Wizard's Apprentice (1930, USA, 9h30 min). For full descriptions of the films, visit //krasl.org/events/flick-or-treat.
[ad_2]